Aftermarket Parts in Hot Springs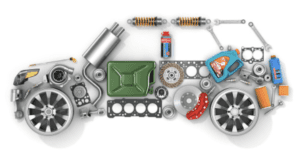 At MotorSports Authority, we are dedicated to offering genuine customer service and providing affordable, reliable parts for whatever repairs or modifications you need to get done. We believe in committing to a job and doing the job well. That concept is carried into the quality automotive parts and accessories we offer to our customers. Or, if you are in the market for quality used cars in Hot Springs, check out our latest selections. So don't hesitate to contact your friends at MotorSport Authority of Hot Springs for any of your automotive needs. We are happy to help!
WE GOT THE HEART AND THE PARTS: Our dedicated service department keeps a large inventory of factory and aftermarket parts in stock at all times. It's important to have the right part that fits your vehicle. Also, when we service your vehicle, we use genuine manufacturer parts, knowing that using the correct parts can extend the lifespan of your vehicle. If you are doing repairs or customizing your vehicle yourself, you can order parts from us at affordable prices. Motorsports Authority makes it easy for our customers! To order the part you need online, just visit our website. We'll contact you as soon as the part is ready for pick-up.
ACCESSORIES: If you want to completely change the vibe of your vehicle or just add some personal touches, come to us for all the latest accessories. MotorSports Authority has quality accessories to make your vehicle catch every eye in Hot Springs. We can even help you accessorize your ride with our custom, full-service automotive shop. Whether you're looking for window tint, wheels/tires, or a wrap to advertise your business, we are here to give you exceptional service! 
WE ARE TO HELP: If you have any questions about what parts you need, go online to our website and fill out a simple form to Contact Our Parts Department.  Our technicians will get back to you fast to answer any of your automotive questions and help you find the parts that will fit right the first time. Or you can call our parts department directly to personally talk to one of our experienced technicians who can answer all your automotive questions. Just dial: 501-500-5507.
If you're planning a DIY automotive upgrade project, or want to improve the looks and performance of your ride with new parts, MotorSports Authority of Hot Springs is dedicated to delivering high-quality service to you, including genuine OEM and aftermarket vehicle parts! Looking for quality auto parts in Hot Springs? Come see us today at Motorsports Authority!