Buy Quality Used SUVs For Sale Near Little Rock
Need a vehicle big enough and reliable to get where you need to be at decent price? Then come check out our big selection of quality used SUVs in Hot Springs at MotorSports Authority. We have always understood the value of a dollar, and your need for a reliable used car during these uncertain times. MotorSports Authority Hot Springs, near Little Rock, is here for you to provide the best deals on quality used vehicles. We have built our reputation on professional and friendly customer service. We offer a great selection of models with plenty of options to choose from. We would like to share a small list of some of the great used SUVs we have available now. Contact MotorSports Authority in Hot Springs, near Little Rock, and let us assist you into your quality SUV.
CLICK HERE TO VIEW OUR SELECTION OF USED SUVS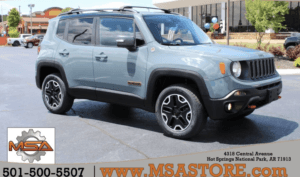 USED 2015 JEEP RENEGADE TRAILHAWK
Get your summer social distancing done in style in this used 2015 Jeep Renegade Trailhawk! Equipped with a 2.4-liter MultiAir engine coupled with a nine speed automatic transmission, this beauty will take you anywhere, especially with four-wheel drive!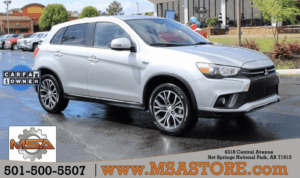 USED 2019 MITSUBISHI OUTLANDER SPORT SE
This quality used 2019 Mitsubishi Outlander Sport SE is great for the Hot Springs scene. This 2019 Outlander has low mileage, and is equipped with a fuel-efficient 2.0-liter engine. Feel safe and confident when surrounded by the latest advanced safety features.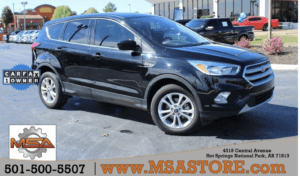 2019 FORD ESCAPE SE
Don't miss out on this beauty, a clean, used 2019 Ford Escape SE with a 1.5-liter Ecoboost engine coupled with a six-speed automatic transmission. It will be a wonderful vehicle to have for your summer adventures. This 2019 Ford Escape is loaded with the latest interior features and is a one-owner vehicle.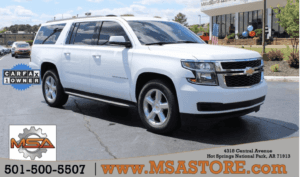 2016 Chevrolet Suburban LT
Load up the kids and go explore the great outdoors in this quality used 2016 Chevy Suburban LT! You'll have awesome features such as Electronic Stability Control, Power Liftgate and more!
This clean 2016 Chevrolet Suburban will give you ultimate power and plenty of room!
These are just a few models from our huge selection of quality pre-owned SUVs at MotorSports Authority Hot Springs near Little Rock. Are you looking to buy a used SUV in Hot Springs, Malvern, Benton or Bryant, Arkansas? Then get the SUV you need at a price that works for your budget! Contact our friendly staff at MotorSports Authority and let us assist with having a great ride for all your summer family fun!