Car Service Center near North Little Rock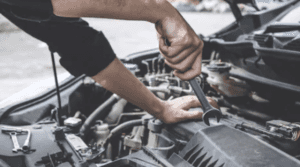 There is nothing like having confidence in the vehicle you are driving, especially when dropping off the kids at school. To play it safe when your vehicle needs routine service, stop by MotorSports Authority's reliable service department in Hot Springs, just down the road from North Little Rock, We are here for you with fantastic repair service that will meet your expectations and budget. Customers come first at MotorSports Authority, where we always place our customer's satisfaction as a top priority with excellent turn-around times to get you back on the road promptly.
SERVICE YOU CAN RELY ON: Our factory-trained and experienced service staff are knowledgeable and professional. To make sure your experience is low on anxiety and high on satisfaction, we offer complete and convenient vehicle service, using high-quality, genuine aftermarket parts that help keep your vehicle running perfectly. To make it time-saving and easy for our customers, you can schedule an appointment online when your Hyundai needs service!
CLICK HERE TO SCHEDULE SERVICE WITH MOTORSPORTS' SERVICE DEPARTMENT
JACK OF ALL TRADES: We offer it all! You don't have to worry about taking your vehicle to several places throughout North Little Rock to have it repaired. From oil changes to major auto repair, MotorSports Authority has you covered. We're well-equipped to handle whatever your vehicle needs. We even offer window tinting and custom vehicle wraps, and our factory-trained technicians offer expert installation. 
PARTS AND ACCESSORIES: Visit our parts department for the parts you need now. We stock genuine parts to ensure compatibility with your vehicle. No matter if you're doing light maintenance on a newer model or restoring a classic, you can order the part online. If you're still figuring out what you want, call us or drop by. For the extra touches and to personalize your ride the way you want it, shop for the right accessories on the Accessories link on our website.  
This Fall be stress-free and enjoy the crisp North Little Rock weather and Halloween season knowing you have a reliable auto service close to your NLR home! MotorSports Authority of Hot Springs has got your back. From simple routine oil changes to major auto repair, our service department provides quality service by factory-trained expert technicians who are committed to you. Our customers are our top priority. Contact us in Hot Springs, let us assist you with your vehicle needs. Hope to hear from you soon!