QUALITY UPHOLSTERY WORK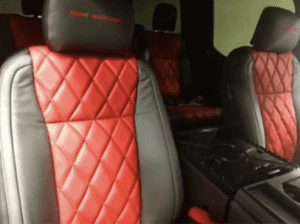 The look and feel of the exterior of your vehicle is an important factor to the value of your vehicle. Just as important is the condition of the interior. From design to spaciousness are major components to the vehicle's appreciation value.  To tweak your vehicle's appreciation value is the quality of the interior upholstery.  Here at MotorSports Authority of Hot Springs, Arkansas, we offer top-quality upholstery work that makes the interior stylish and visually stunning. So visit us at MotorSports Authority of Hot Springs and let us assist you and revitalize your ride.
CLICK HERE TO VIEW OUR GREAT OPTIONS WE OFFER FOR UPHOLSTERY WORK
GET THE INTERIOR LOOK YOU WANT:  One of the most alluring and fascinating features of a vehicle's interior is the upholstery.  Upholstery is one of the most important features because it establishes not only the look of the interior but the feel as well. If you are selling or purchasing a vehicle, the condition of the interior is key. Understanding that concept, MotorSports Authority of Hot Springs, Arkansas offers top-notch craftsmanship when replacing interior upholstery. We take pride in our service and apply the latest applications in our upholstery work. 
GREAT UPHOLSTERY KITS: MotorSports Authority of Hot Springs, Arkansas offer the latest trend in interior upholstery and leather kits. We offer variations of factory match upholstery work. If you are just needing replacement for a row of seats, we have the One Row Factory Match. Or, if you are needing a complete replacement for your model, we have the Two Row Factory Match. For those vehicles with three row seating, we have you covered with our Three Row Factory Match kit. 
LEATHER KITS: What says style and sophistication more than a luxurious leather interior? If you want to set your vehicle apart from the rest, we offer stunning custom premium leather kits. Have your interior seats decked-out in customized leather upholstery! What a way to revitalize the look and feel of your ride. We also offer heated seat components with our leather kits to get your vehicle's interior looking good and feeling good with an upgrade to heated seats. It's the best thing to have in this chilly season. 
At MotorSports Authority of Hot Springs, Arkansas, we offer our customers the latest trends in revitalizing and upgrading their vehicles. One of the services we are proud to offer is our top-notch upholstery work, because we want our customers satisfied with the way their vehicle looks and feels.  So come visit us at MotorSports Authority of Hot Springs, let us assist you with all your vehicle needs. Hope to see you soon!