Quality Used Vehicles For Sale Near Sherwood And North Little Rock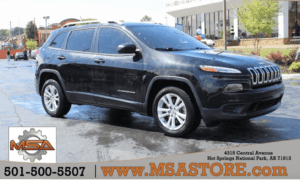 Ready to get a quality vehicle at a reasonable price? Your friends at MotorSports Authority understand the value of a dollar, and your need for a reliable car in this confusing time.  MotorSports Authority in Hot Springs, near Sherwood and North Little Rock, is here for you, and will provide the best deals on quality used-vehicles. We have built our reputation on professional and friendly customer service. We offer a great selection of models with plenty of options to choose from. We would like to share a small list of some of the great used vehicles we have available now. Contact us at MotorSports Authority in Hot Springs, near North Little Rock and Sherwood, and let us assist you into your next quality vehicle. 
CLICK HERE TO VIEW OUR ENTIRE SELECTION OF QUALITY USED VEHICLES
2017 FORD FUSION SE:  Want to step up in style a bit? This great used 2017 Ford Fusion SE will definitely fit the bill with awesome features like Bluetooth capability, and power seats. Get spectacular fuel efficiency with the 2.5-liter engine that came standard with this great sedan. For safety, this 2017 Ford Fusion SE is equipped with side-impact airbags and Parking Assist. 
2015 JEEP CHEROKEE SPORT: Need iconic versatility for Sherwood living? Check out this great-looking 2015 Jeep Cherokee Sport with a roomy interior and keyless entry. You will get around Sherwood quick with the powerful 2.4-liter four cylinder engine coupled with a nine-speed automatic transmission. 
2018 DODGE GRAND CARAVAN SXT: This is the vehicle to have when you are running errands around North Little Rock. This quality used 2018 Dodge Grand Caravan gives you all the space needed when getting groceries or taking a scenic drive with the kids. Powered by the 3.6-liter V6 engine with a 6-speed automatic transmission, you'll even have great towing capability. Key features include third-row seating, Hands-Free Gate Lift, and rear A/C to keep the kids cooled off this summer. 
2013 GMC SIERRA 1500 SLE: Don't miss out on this awesome used truck: a 2013 GMC Sierra 1500 SLE with a powerhouse 5.3-liter V8 Vortec engine!  The 2013 GMC Sierra is a fantastic truck with premium towing capabilities and an eye-catching exterior design. Plus, you will have plenty of interior space to stretch your legs. Key features include satellite radio capability and side-impact airbags. 
MotorSports Authority understands the value of a dollar, especially during these uncertain times. If you are in the market for a clean, high-quality used vehicle, come visit your friends at MotorSports Authority in Hot Springs, near Sherwood and North Little Rock. Get pre-approved financing before you even walk onto our car lot by visiting our website and applying online. For quality used cars in Hot Springs at the right price, you can rely on MotorSports Authority being here for you and your vehicle needs.