Shop At Hot Springs Pre-Owned Vehicle Dealer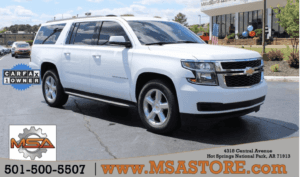 When you're shopping for quality pre-owned vehicles in Hot Springs, one name should be at the very top of your list: Motorsports Authority, Hot Springs. With an expert sales and service team, Motorsports Authority Hot Springs can put you in a clean, superb pre-owned vehicle. Choose from their wide variety of pre-owned models, from thrifty compacts to luxurious SUVs. Not only do they sell reliable pre-owned vehicles, Motorsports Authority Hot Springs takes pride in our customer service and aftermarket products, such as our car and truck accessories. Quality, variety, and commitment holds true at Motorsports Authority Hot Springs.
CLICK HERE TO VIEW OUR VAST SELECTIONS OF QUALITY PRE-OWNED VEHICLES
BEST IN THE BUSINESS: MotorSports Authority Hot Springs is synonymous with quality and commitment. As our motto states, we want to exceed your expectations from test drive to delivery and beyond. We have one of the widest varieties of used automobiles in Central Arkansas, and our inventory ranges in price as well as model. Right now, we have everything from a 2010 BMW 528i Sedan, the supreme midsize sport sedan, to the economical yet very sporty 2013 Toyota 4Runner, plus many, many more. For the truck-lover, we have on hand a sturdy 2014 Ford F-150 SuperCrew ready to roll. That's just the tip of the iceberg when it comes to our great selection of pre-owned cars, trucks and SUVs. Whatever vehicle you choose, MotorSports Authority will work with you and your financial situation.
GET PRE-QUALIFIED: Here at MotorSports Authority, we take into account your financial needs. We make buying easy and simple with the pre-qualification application on our website. Even before you set foot on our car lot, get pre-qualified for financing, which takes you one step closer to purchasing the pre-owned car you want and need. We also offer great specials and offers when purchasing your vehicle. Please contact us directly to learn about our sales and service specials.
THE PLACE TO GO FOR ACCESSORIES: If you just want to keep the car you have, but want to spruce it up a bit, give it a make-over! MotorSports Authority Hot Springs has you covered with the latest trends in accessorizing your beloved vehicle. Accessorizing your vehicle is just as important as purchasing one. Our friendly staff will assist you throughout the buying process, helping you create a vision that will help you love your vehicle even more. We are very proud of our custom, full-service automotive shop, and stand behind our quality repair work. Our service team provides services from regular auto repair and maintenance to full-scale custom modification to your vehicle. From window tinting and wraps to advertise your business, to installing lifts or lowering kits to your truck, we do it all. If you want to reupholster your seat, select from our wide variety of leather kits. MotorSports Authority Hot Springs, is central Arkansas's foremost authority on customizing your ride.
MotorSports Authority Hot Springs is the best in the business when you're looking to purchase a pre-owned vehicle. Our inventory of pre-owned vehicles offers variety and quality. Stop in and give us the opportunity to exceed your expectations at MotorSports Authority Hot Springs!