Car Wraps In Hot Springs, Arkansas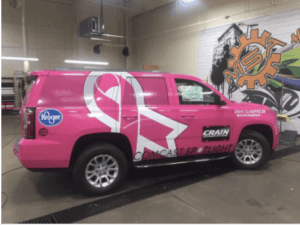 An eye-catching car wrap can be a great asset to your Hot Springs business! Your vehicle becomes a mobile billboard advertising your business to new customers everywhere. MotorSports Authority offers custom graphics and large format vehicle wraps for your marketing needs. We handle everything in house, from design to application, helping you save money and downtime. Promote your brand in style, with a colorful, affordable, attention-grabbing vehicle wrap from MotorSports Authority of Hot Springs. Stop by MotorSports Authority today and let us assist you in putting your business on the map!
CLICK HERE FOR MORE ABOUT OUR VEHICLE WRAP AND OTHER GRAPHIC SERVICES
VEHICLE WRAPS: Eye-catching vehicle wraps have been a popular way of advertising businesses or products. With advancements in graphic films, printing, and application techniques, you get high-definition designs that will grab attention. As a result, this will help your business grow. Vehicle wraps are easy to install and require minimal maintenance. The wraps are easy to remove without damaging the exterior paint of your vehicle. MotorSports Authority does a quality, professional vehicle wrap that will get your business noticed.
BANNERS AND WALL GRAPHICS: MotorSports Authority also specializes in creating large banners and sharp wall graphics for businesses and social occasions large and small, at affordable prices. For advertising your business at regional community or sports events, MotorSports Authority can create quality banners and graphics in almost any size. Our banners and wall graphics are easy to install and made from high-tech, fade-resistant materials that will last for years, even outdoors.
WINDOW PERFORATIONS: Another great way of advertising that is cost-effective is Window Perforations. A window perforation is a colorful window cling that is pierced with thousands of holes, turning any window into a large sign while still allowing light to come in. Another added benefit is that you can see out while others can't see in, giving you more privacy and security. With our window perforations, MotorSports Authority gives you a high-quality and informative advertisement that will attract more business.

MotorSports Authority of Hot Springs has you covered. Whether you have a new business just beginning or an established business, vehicle wraps, window perforations, and high-definition banners are cost-effective ways to advertise. We offer professional-quality work by our experienced in-house technicians, using only top-quality materials. We can even help you with layout and design. Make your business thrive, come see us at MotorSports Authority and let us assist you!